Event agencies and venues save with Unisuite
up to 47% working time
per employee
Sounds like a lot? It is! Up to 47% of working time is wasted on unnecessary tasks. Get ready for a revolution in your event management. With our platform, you can focus on what truly matters: creating great events, instead of dealing with endless emails, tasks, requests, or using 100 different tools.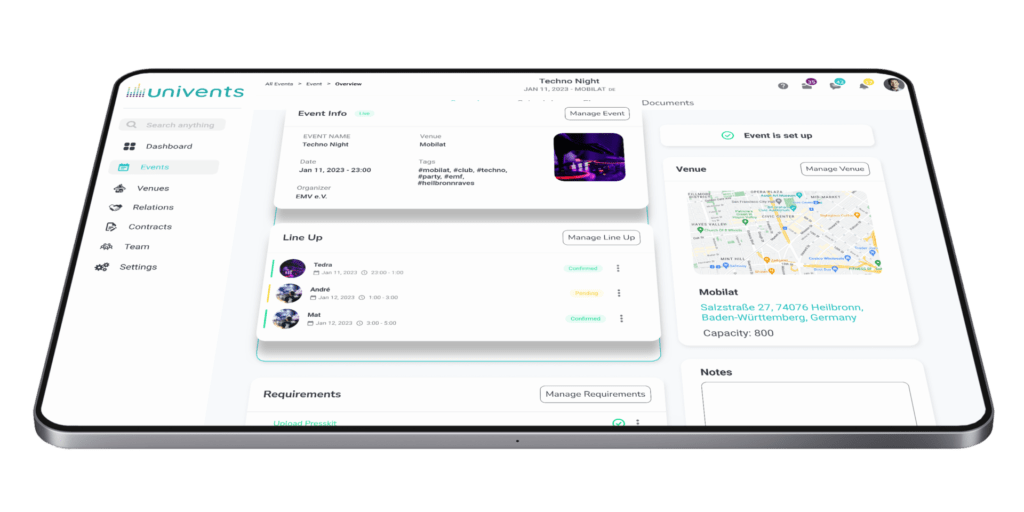 Our early access All-in-One offer – for a limited time only!
Calculate your savings potential
Univents not only takes away unnecessary and tedious work, but also saves significant costs in your company. Moreover, thanks to your Unisuite, you can eliminate many other tools and save money!
How many event managers do you have in your team?
By how much % could you become more efficient?
Your potential savings with Unisuite
Let's be honest, does efficient event management look like this for your customers or location?
One thing is clear: in event management, no day is like another. The many challenges can quickly overwhelm you, from booking requests to communicating with vendors, budget planning, and countless emails—it's easy to lose track. And often, at the end of the day, you're left with a feeling of chaos and stress…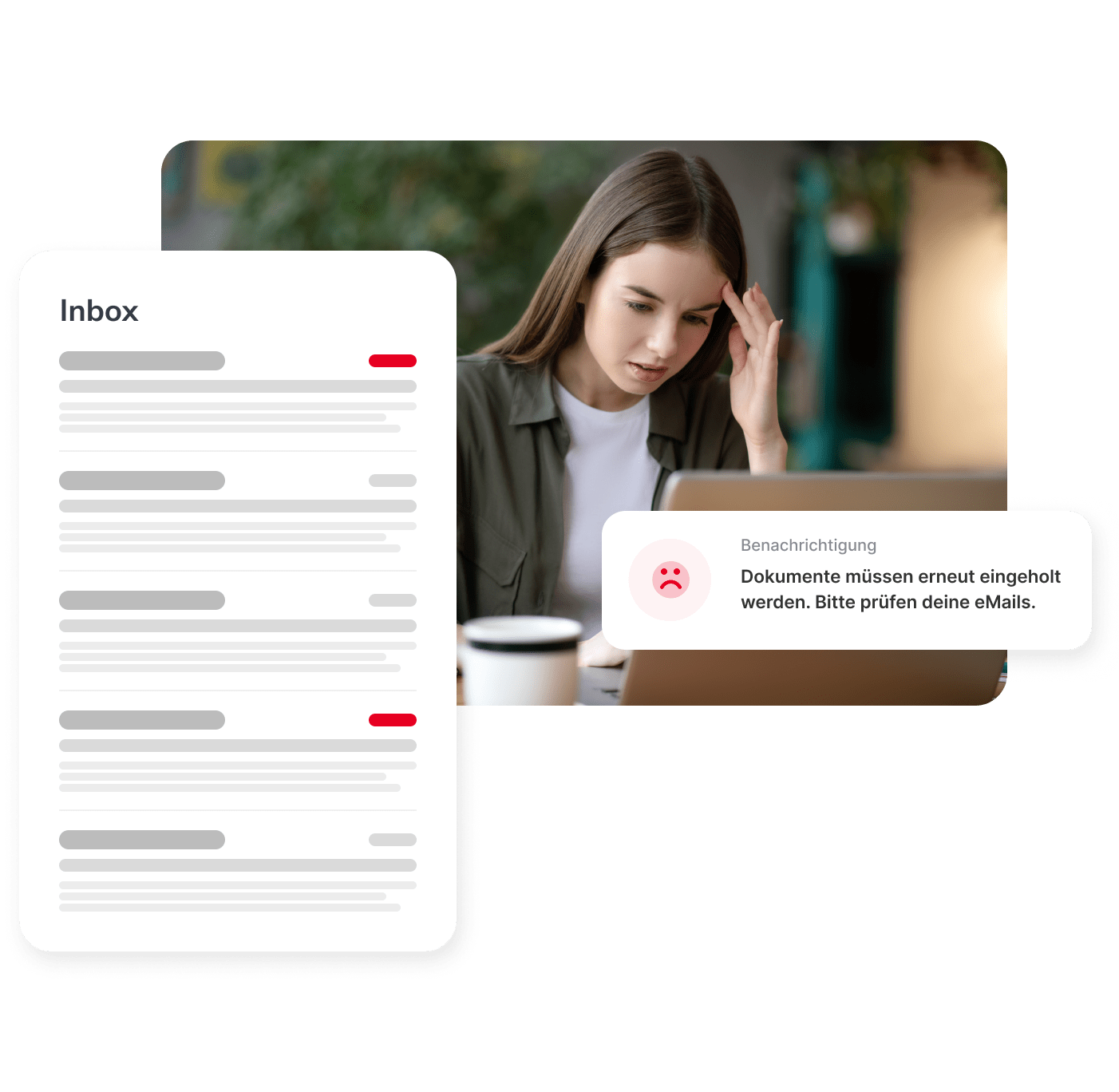 Too many inquiries, service providers, tasks, management, emails...
Juggling all aspects of event planning is an immense challenge. Schedules, resources, and an endless amount of tasks can become an overwhelming burden. It's not just about simple time management but about fundamentally improving workflow processes.
Frequent scheduling conflicts or suboptimal room utilization
Incomplete documentation leads to search stress and overtime
Time-consuming email ping-pong with clients and service providers
Arbeit mit 10 Tools, Excel-Tabellen, Checklisten und keinen Vorlagen
Switching between various tools like Excel for financial planning, booking software, and communication systems makes the creative work of event planning more challenging. This constant switching is frustrating, time-consuming, and distracting, leading to the loss of valuable resources that could be better used to improve your events.
Error-prone and opaque due to manual maintenance and syncing
High costs from using multiple paid tools
Difficult collaboration and coordination with the team and external parties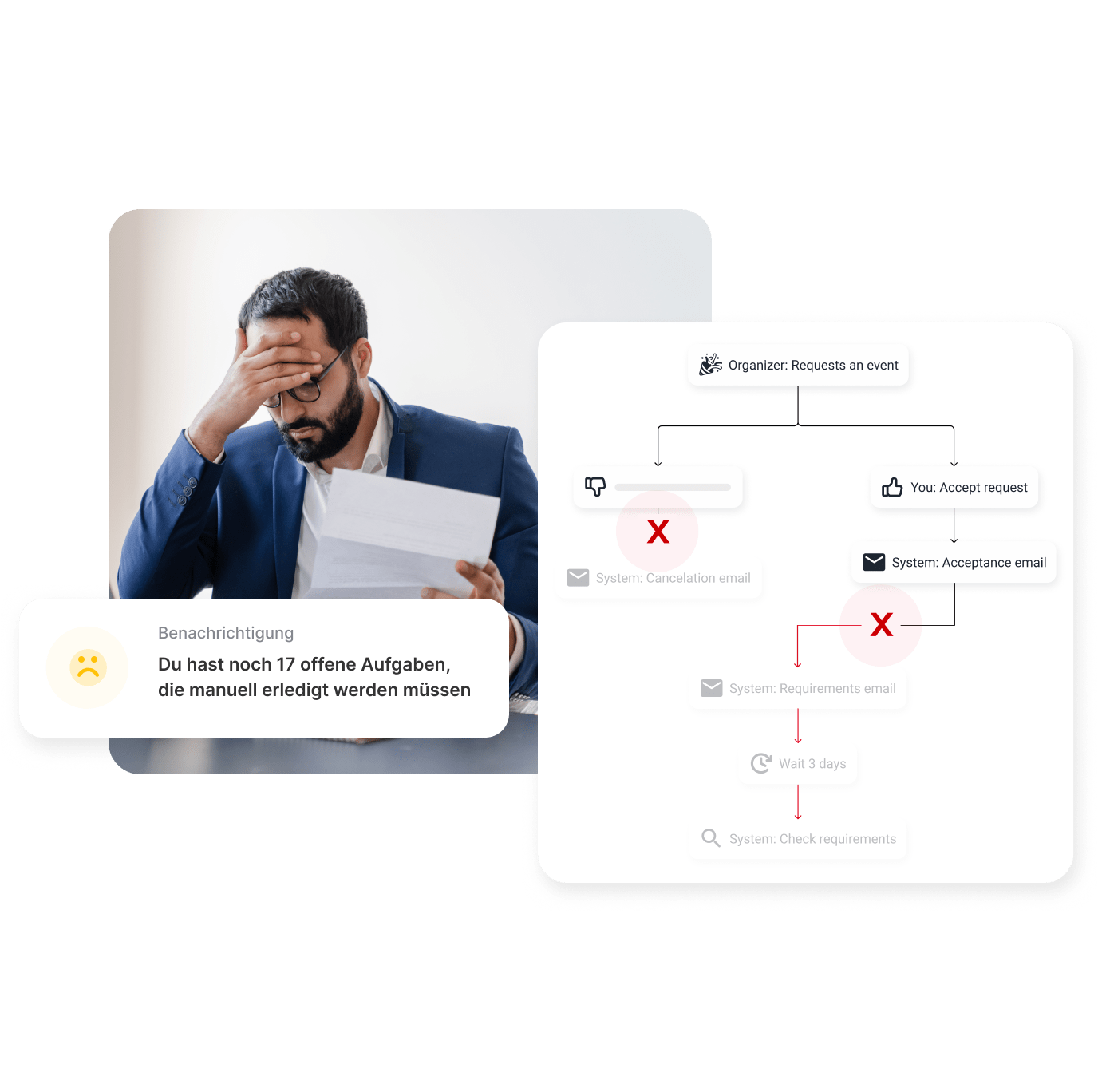 Event managers and venues lose an average of €2,000.57 per employee - every month...!
These drastic figures point to a systemic issue in the industry. The lack of digitization or integration of the wrong tools and unnecessary processes not only ties up management's time but also steals time from optimal catering and communication with customers.
We'll show you how to optimize your working hours and increase customer satisfaction.
(Calculation based on €4,000 monthly gross salary and feedback from our customers and interviews. As of 07/08/2023.)

Save up to 2.5 workdays per week with Unisuite
Univents consolidates all communication channels for organizers, artists, partners, and guests into one interface. Moreover, you can manage your contracts, event agenda, tickets, or guests directly within the platform.
Start in less than 10 minutes now
The new way to plan and host your events!
That's how event management works in 5 steps!
Simple, structured, time-saving!
Our software transforms the way you plan events. In just five easy steps, we take you from chaos and stress to structured, automated, and, most importantly, successful event management.

Automated management of booking inquiries
No more 100,000 emails and calls. Your customers can make inquiries directly through the platform. With our external booking platform and automated processes for accepting booking inquiries, you avoid overbookings and double bookings, creating a seamless experience for your customers.
Of course!
You can customize the booking page to match your brand with colors and a logo. Additionally, you can also integrate us into your website and accept bookings directly there.
Would you prefer to make bookings based on your staff's capacities? Or would you like to create rooms within your location?
You can choose what you want to select availabilities for and which calendar entries are associated with the respective employees/locations/rooms.
Users achieve an average of 72% time savings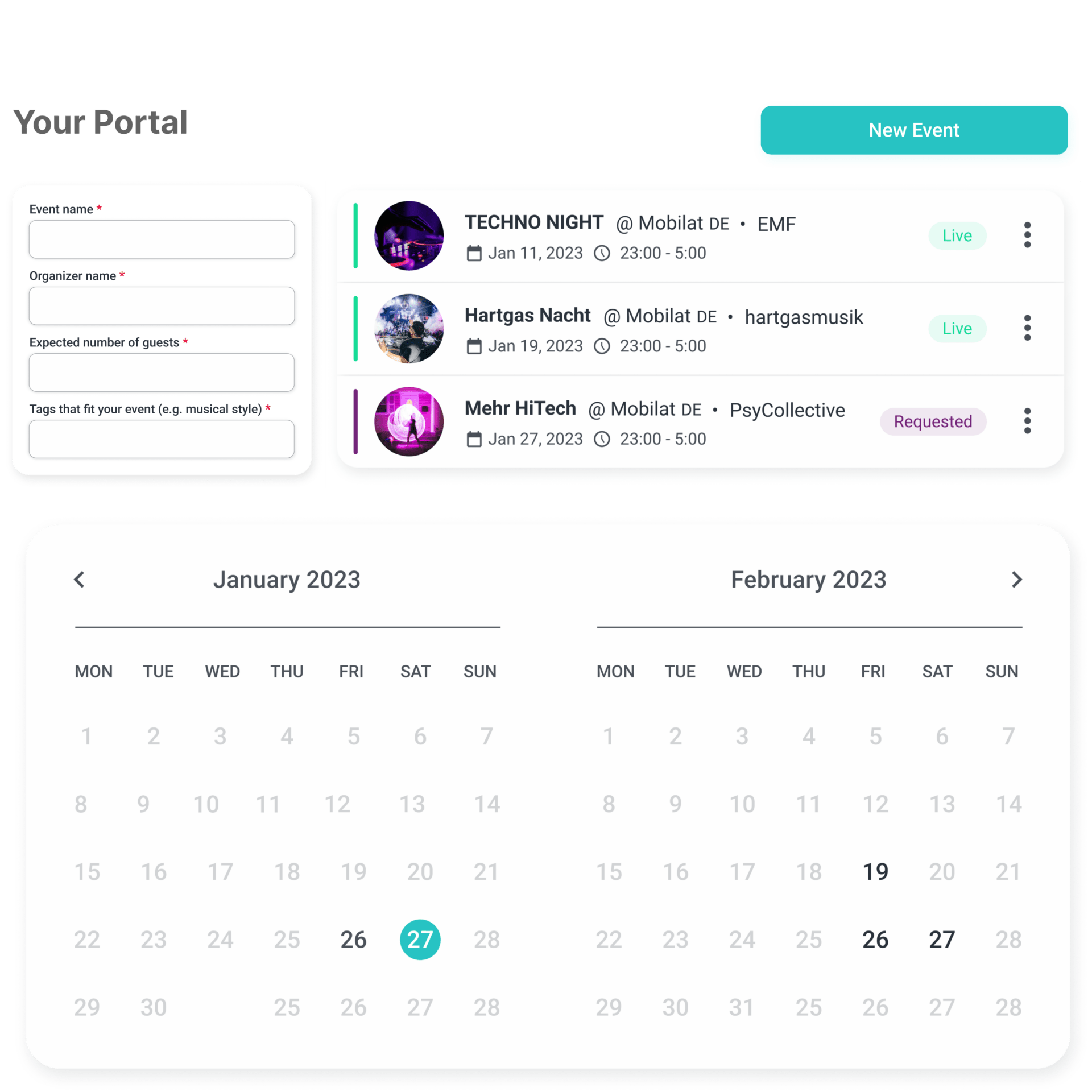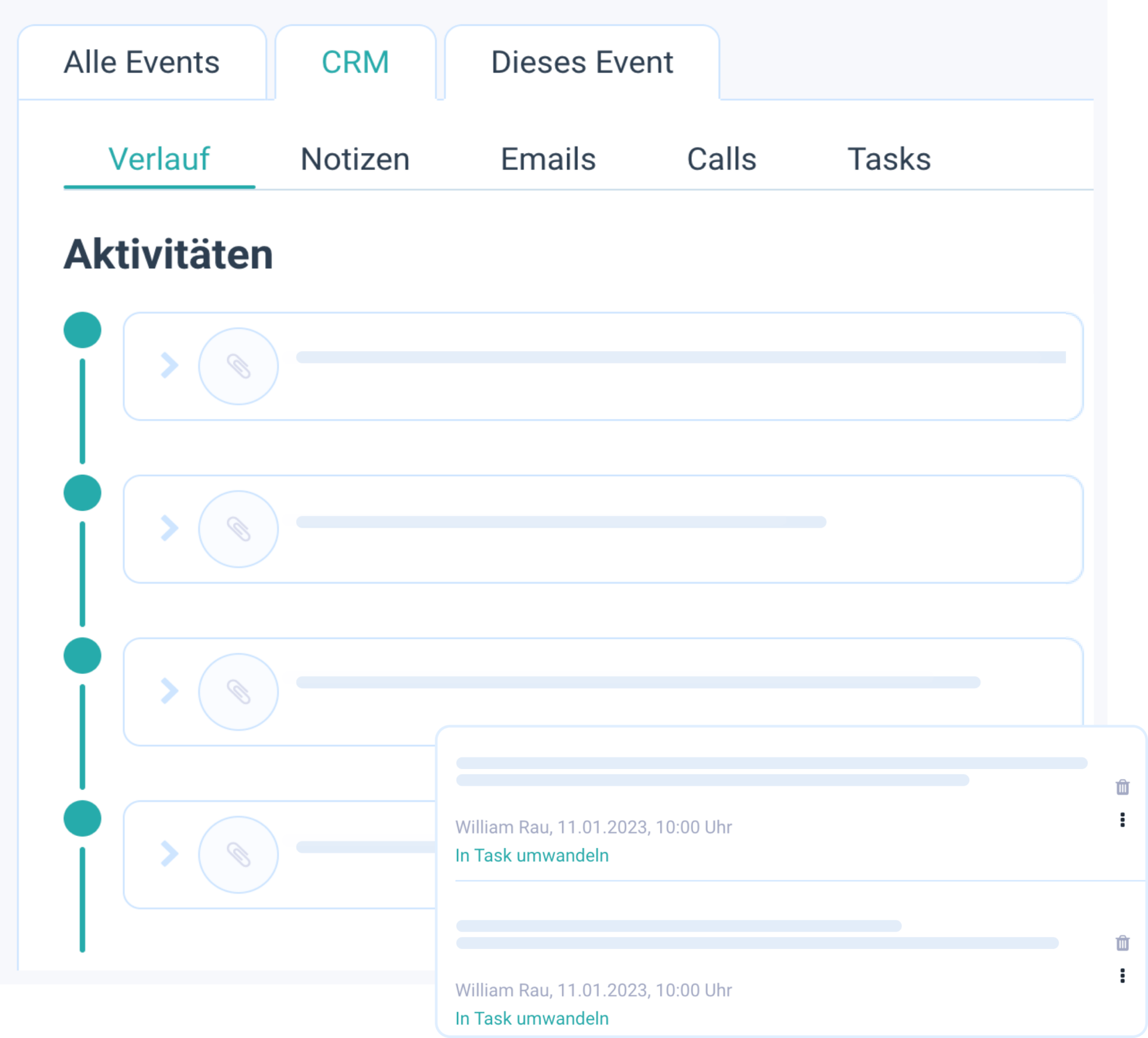 STEP 2 – Managing event inquiries
Handle inquiries in our CRM/contact manager
Our integrated CRM system allows you to keep track of all customer communication. This enables you to centrally store customer data and access it as needed, ensuring a seamless flow of information and facilitating customer relationship management. This way, you can ensure that no inquiry goes unanswered, and every interaction is recorded.

STEP 3 – Planning and executing everything optimally
Easy management of contributors, tasks, documents, schedules, and more...
In event planning, teamwork is essential. Unisuite allows you to assign tasks, set deadlines, and track progress in real-time. External service providers can easily be integrated into the planning process, simplifying coordination and saving time. All current modules include:
Tasks & Templates
File storage & Sharing
Schedule planning & Export
Personnel planning & Shift schedule
Contract signing
Document management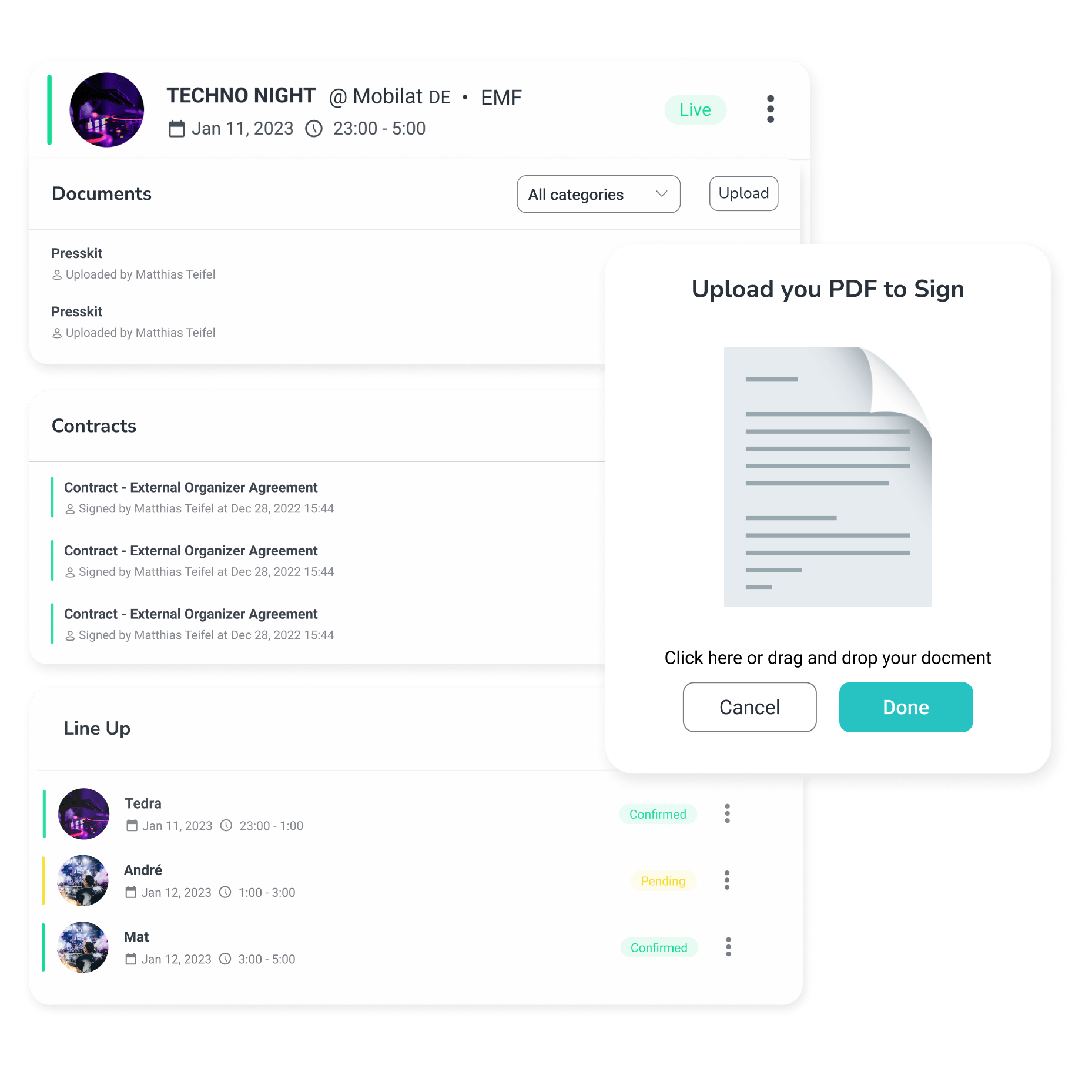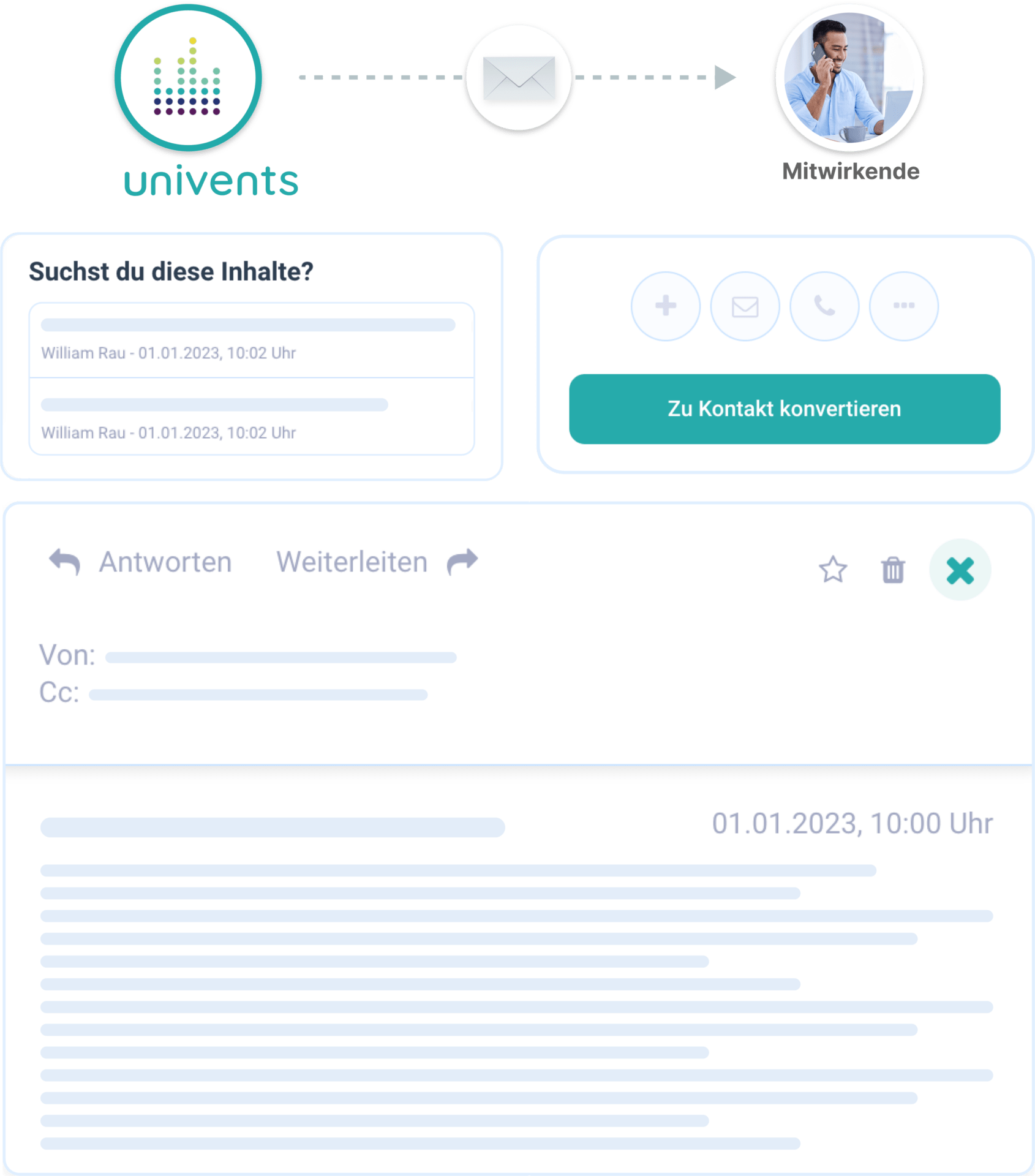 STEP 4 – More efficient day-to-day operations
Easy communication with an integrated email inbox
With our integrated email inbox, which automatically syncs with your events, you always have an overview of your communication. No more scrolling through endless email threads: you always know which message belongs to which event and can reply directly from our software.
+43% time savings per email interaction.
You can link 1 email inbox per main license to your account. However, you can connect as many accounts as you want for a minimal fee per account.
Yes, we synchronize all relevant data from your email inbox. The data is encrypted and stored on our servers, so you never have to worry about losing emails or manually synchronizing different calendars. You can choose whether to respond in your email inbox or within our tool, but you always have everything organized in our platform.

Financial management and final analyses
After the event, it's time to prepare for the next one. To help you maintain a comprehensive overview, our tool assists you with financial planning. You can upload, manage, and compare revenues and expenses. You can also create quotes and invoices directly within our software. This makes post-event follow-up a breeze, and you can already look forward to the next event.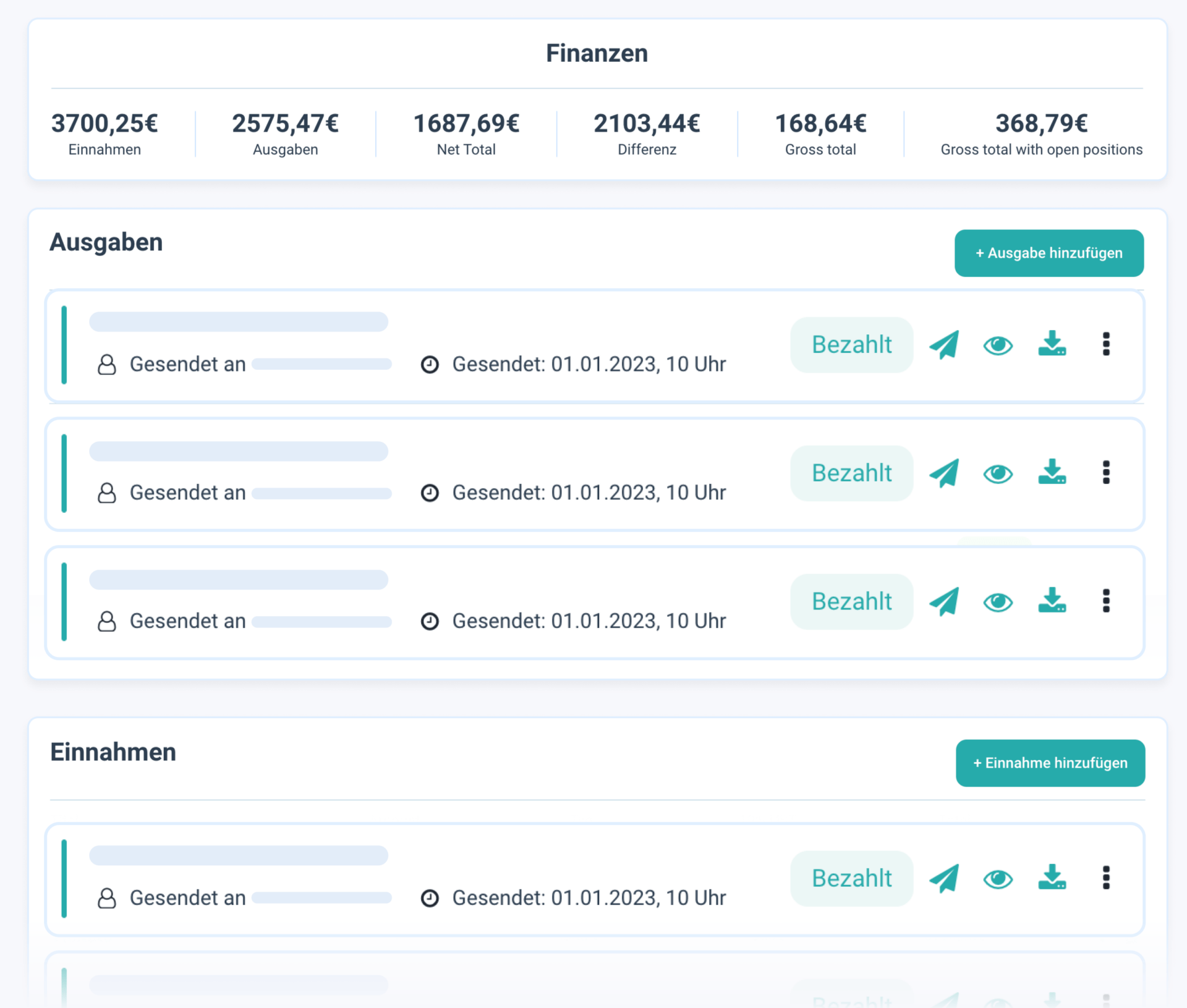 10+ special features only available with our EventOS
We are the first event operating system and focus on your time, not on features
Another feature? Something else complicated that I don't need? Not with us! Our goal is to optimally support you on your customer journey and save you time wherever possible. Our credo – time saving before features!
Duplicate tasks? Nobody likes that. That's why we've created template libraries for all areas in our tool, allowing you to set up a complete event in just three clicks. By the way: The import takes exactly as long as getting a coffee.
-65% Time savings per event
We synchronize your emails, regardless of whether you've written them on your phone, PC, or Gameboy, with your tasks and directly assign documents. We also make suggestions for appropriate tasks.
-17% Time savings per task
If desired, we automatically remind your customers or service providers of their overdue tasks. This makes it unnecessary to follow up via email yourself!
-29% Time savings per task
Platform for customers and service providers
No – No registration. No complicated "yet another tool" that no one ends up using. We have developed a special extension for emails, through which the customer gets access to many contents from your tool – and that without any additional work for you. (Tasks, Drive, Contracts, Staff scheduling, etc…)
-13% Time savings per task
Online "Sign" Quote + Contracs
Did the customer sign the contract in the wrong place again? Are contents corrected three to four times and sent back and forth? No more contract chaos. Now everything is in one tool.
-23% Time savings per signature
Based on all the customer and project data we have, we can pre-formulate emails exactly in your wording – and that with just one click. Questions about a document? One click! Missing feedback? One click! …
(coming soon…)
-56% Time savings per mail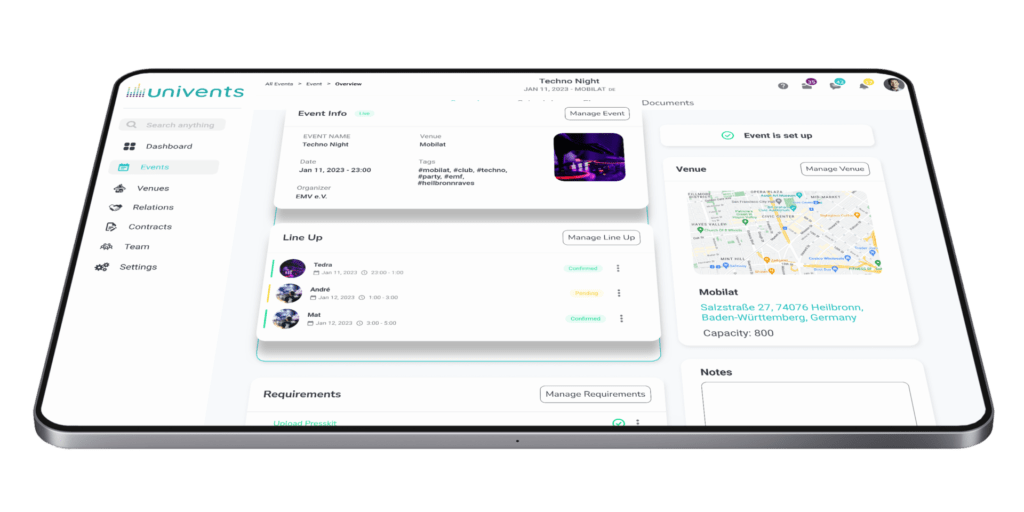 Register now for Unisuite for free!
1. Register for the 14-day Beta for FREE!
2. When you subscribe to a package, we'll import all your events into the platform.
3. Automate your work and use the freed-up time for better events!

Frequently asked questions about event planning with Univents
Below is a summary of frequently asked questions.
If you have any additional questions, please feel free to contact us.
Our software is an all-in-one solution that covers all aspects of event management, from booking requests to financial planning. We automate time-consuming processes so you can focus on what truly matters: creating unforgettable events.
The security of your data is very important to us. We use state-of-the-art encryption and security protocols to ensure that your data is protected and kept private.
You can start right away after we've shown you the platform! After signing up for our free beta access, we'll import all your events into our platform, allowing you to start quickly and easily.
After the 14-day trial period, you can decide whether you'd like to continue using our services. We offer various packages to cater to your needs.
We provide comprehensive support, including a detailed online help center, email support, and live chat. Our dedicated support team is here to assist you when you need help.
Yes, our software is flexible and can be customized to meet your specific requirements. You can add additional features and extensions to optimize your event management process.
Our software is suitable for events of all sizes. Whether it's large conferences, trade shows, or smaller gatherings and meetings, our platform can be customized to meet your needs. We offer scalable solutions to ensure that you can benefit from our software regardless of the event's size.